Over the years, award-winning actress/singer/songwriter Judy Marshak has gained respect and admiration in many facets of the entertainment industry - theatre, television, film, voiceover, and music. She has graced jazz clubs and concert halls across the country, and starred in such hit stage musicals as "Beauty and the Beast"(winning her a 'Best Actress in a Musical' nomination for Mrs. Potts ), "Anne of Green Gables", "The Drowsy Chaperone", "The Full Monty", and many more, most recently appearing in Richard Ouzounian's daring take on "Guys and Dolls". Among her club appearances, Judy has played the legendary Old Mill Inn for the Toronto Jazz Festival, as well as their intimate Home Smith Lounge for the Friday Night Jazz Vocalists Series. In the world of cabaret, Judy is renowned for her eclectic one woman shows and vocal trios.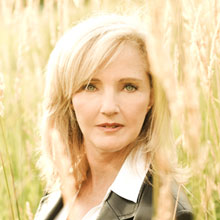 Theatre highlights have included roles in such powerhouse plays as "Doubt" and "The Glass Menagerie". Film roles have allowed Judy to share the screen with such actresses as Ellen Burstyn ("The Stone Angel") and Darryl Hannah ("All the Good Ones are Married"). And favorite TV appearances have been on shows like "Being Erica", "The Dresden Files", and most recently, "Life With Boys" (in a recurring role). Listen for Judy 's voice as bossy 'Mad Margaret' on the animated TV series "Erky Perky", every morning on YTV.
The release of her first solo CD "A Matter of Time" in 2009 was perhaps the most gratifying project in a long career. Acclaimed as a gifted song interpreter - her vocal style often compared to the likes of Norah Jones and Blossom Dearie - she is now recognized as a fine songwriter as well. With esteemed jazz artist John Alcorn as producer/collaborater/arranger, and featuring some of Toronto's A-list musicians, "A Matter of Time" is a lushly produced album of soulful, sexy, feel-good music, featuring 9 original compositions and 4 cover tunes. CBC's George Anthony said, "...at long last, veteran showstopper Judy Marshak has finally released her first album, and as expected, it's a musical bonbon to savour.....". Rob Fogle (CHRY-FM) says "Marshak's voice is right on the money". The Toronto Star's Richard Ouzounian calls it "slyly sexy and often touching..... a wonderful surprise on many fronts", placing it alongside Michael Feinstein's and 6 others as his prime picks for the 'Broadway' crowd. Mike Pinder of the Moody Blues named Judy's song "Broken Radio" Outstanding Jazz Winner in his 'Songwars' Songwriting Competition. Toronto's JAZZ.FM91 included "A Matter of Time" on their list of 'Favourite New Releases of 2009'. It is currently on the regular playlists at JazzFM91, CBC Radio, CHRY105.5FM, WOSR-Radio, and many live streaming internet stations around the world.
Judy's most recent musical passion revolves around the ukulele. Her 'Solo Ukulele Show' has been drawing crowds in clubs around Toronto and as far away as the Isle of Tobago. With 3 ukes and a banjolele, Judy treats her audiences to a repertoire covering everything from Dinah Washington to Jack Johnson to Santana, demonstrating the astounding diversity of this hip little instrument. And her increasingly popular 'UKEOLOGY' Workshops for Beginner Ukulele studies have been sending fledgling players out the door with songs under their belt and big smiles on their faces. She has gained notoriety for being an innovative and inspiring teacher, able to transform total newbies into proud players in just a few lessons.